When God Saved Me from My Worst Enemy

by Diane Comer
January 5, 2016
Editor's Note: When Diane Comer, a young pastor's wife and mother of three children, inexplicably began to go deaf at the age of 26, her faith floundered. This article draws from her raw, transparent story, one of failure and doubt sprinkled with grace and hope, captured in her new book He Speaks in the Silence.
________
As Janna had confronted me about my lack of honesty during the hearing test, God began prodding me to take an honest look at my inner life.
I had been angry inside for so long, feeling intensely sorry for myself, that it had become deeply ingrained in my daily thoughts. Anger at God, anger at my circumstances, anger that God hadn't given me the perfect life I had thought I'd signed up for all those years ago.
When life goes bad and we stay mad, something terrible happens inside our souls. We lose our ability to hear, and suddenly God seems far away and silent. He won't answer back, won't coddle and console us in our fury.
This is why I cannot help but question the view I've heard bandied about with such impunity: "It's okay to be angry with God."
Really? Are you sure?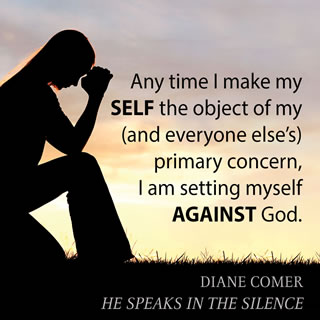 I'm not so certain. In fact, I think I was in a dangerous place when my heart was raging against Him, my soul teetering precariously close to the edge of that deadly cliff of rebellion. Crazy things happen when we willfully push away from the love of God, things that leave wounds and scars that can last a lifetime—mistakes, misjudgments, misery. Much like a child who inadvertently injures himself in a fit of momentary temper, I was working myself into a fury that could have caused irreparable harm.
That God can handle my anger, I have no doubt. The problem, I have come to believe, is not with God, but with us.
Our souls are not strong enough to withstand the gale-force winds of intense and sustained anger. The roof is blown off, boundaries are broken, we are exposed to our own shocking ugliness. When that still, small voice of reason questions the rightness of our anger, we raise the volume, and sometimes we can't stop.
The spark that fueled my anger was intense self-absorption, which led to self-pity. And self-pity, I have learned, is a sin that keeps us away from God.
Until then, my regular forays into self-pity seemed rather benign, a girlish means of passively protesting what I couldn't control. But I was learning, through daily doses of listening with the Word of God open on my lap, a whole new way of thinking.
I was awakening to the idea that God had not so much saved me to make me better as to make me His. And not only that, but my me-centered faith had left me stuck with a whole lot of me, and not much of Jesus—a combination I was coming to see as repulsive.
Self-pity is subtle and circuitous.
Self-pity slips into relationships, strangling goodwill and preventing grace. More of the conflicts between my husband and me are started by "hurt feelings" (aka self-pity) than any other instigator. I feel bad for myself, and I think he should feel bad for me too. And then I think he ought to fall all over himself, making it up to poor little me. If I pout for a while, it's his just due. When I decide to indulge him by cheering up, I expect him to be ever so grateful for my renewed favor.
I believe that most of the self-prefixed words cause me to slide into sin: self-defensiveness, self-centeredness, selfishness, self-protectiveness, self-promotion. Any time I make my self the object of my (and everyone else's) primary concern, I am setting myself against God.
And that's not good. Not good at all.
When my audiologist pulled me up short by confronting me about my bluffing, she had no way of knowing she'd paved the way for me to stop pretending to God about just how angry and devastated I was. Or how her honest way of relating would usher me into hearing things I never could have heard as long as I stuck to the hunky-dory good life script I'd insisted on for so long. God was inviting me into a deeper place, a chamber only accessible through the hard-to-open door of guileless transparency. Not because I was good or pure or as a reward for doing right. I was broken and ugly and utterly helpless.
That is when He heard my cry. That's when He showed His love by seeing through to my true self, that part of me that longed to trust, to draw near, to experience Him in the rawness of real life.
On that morning when He told me it was okay and He wouldn't heal my ears, He actually rescued me from my own worst enemy: me! In that moment of spectacular grace, God rescued me from the mess I'd made for myself.
I didn't do it right. I wasn't a good girl. But in His mercy, He lit up my darkness.
He saved me from myself.
_____________
Taken from He Speaks in the Silence: Finding Intimacy with God by Learning to Listen by Diane Comer.
Order Your Copy Today!