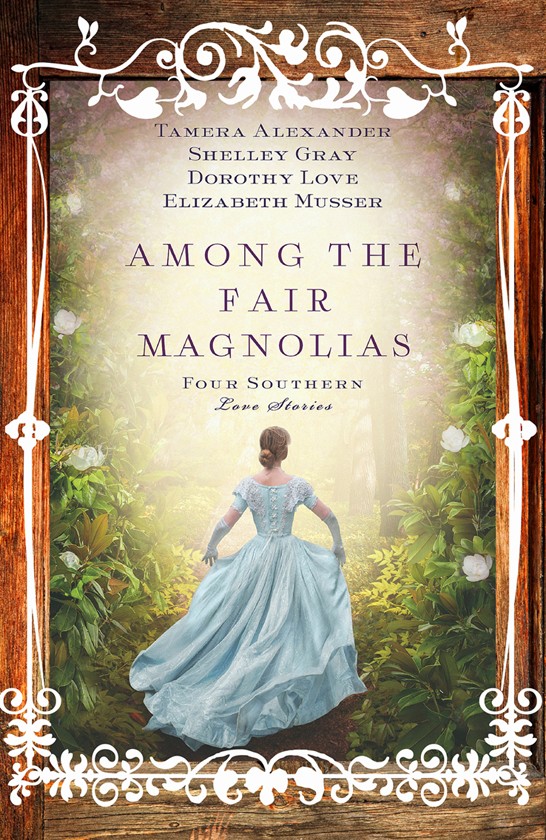 Congratulations, readers!
You did it!
---
The Fair Magnolias Treasury is now unlocked. Enjoy!
---
Bonus Content from Tamera Alexander
Note to the reader: This scene takes place after the end of my most recent Belle Meade novel, To Win Her Favor and before the beginning of my novella, To Mend a Dream…
May 14, 1870
"I've thought many times about what you said, Savannah. When we were together that day. At Darby farm."
Not following Maggie's meaning, Savannah stared at the tiny bundle asleep in her friend's arms and did her best to mask the longing—and jealousy—vying for position in her heart. She blinked. "What I said?"
"About the men who took this country to war years ago. And if they'd known the cost from the very start, would they still have made the same decision? Or perhaps…" Maggie pressed a kiss to the crown of her son's head. "—might they have worked harder to find another way to resolve the conflict."
Willing the longing within her to conquer the jealousy—and wishing she could banish both—Savannah reached over and squeezed Maggie's hand, hearing what her friend was really saying. "Your beautiful son will never have to go through that, Maggie. Surely our nation has learned that lesson."
The earnestness in Maggie's gaze said she wanted to believe it, too. "I pray you're right." A moment passed and gradually a more customary brightness crept into her expression. "Would you like to hold him?"
The simple question sent the stab of longing plunging deeper, but Savannah forced a smile. "Of course, I would." The words sounded surprisingly convincing to her own ears, especially in light of the fact she hadn't even asked to hold him the first and only other time she'd visited.
She accepted the baby, taking care to support little Gilbert's head until he was cradled safely in the crook of her arm. His dark hair and flawless skin was the perfect combination of his mother and father, and Savannah couldn't help but admire him.
His eyes fluttered open—once, twice—before his minuscule mouth opened in a yawn. And, without warning, Savannah felt something shift inside her. There was no other word for it. And to her amazement, the final remnant of a wall she'd tried to remove between her and Maggie began to crumble, brick by stubborn brick.
A tiny fist unfurled to reveal five perfect little fingers, fully splayed as though desperately trying to grab hold of something secure.
Savannah knew the feeling.
She thought again of the argument between her younger brother and sister that morning. One of many in recent weeks. If only she could manage to get out of the boarding house they were in now and into something more suitable. She knew that would help the situation between all three of them, as well as her thinning patience.
She pressed the tip of her forefinger into the baby's palm and watched with wrapt attention as five perfect little fingers grabbed hold for all they were worth. Soon he began to squirm, his expression less than tranquil, and Savannah gently transferred him back to his mother's arms.
Maggie was every bit the wonderful mother Savannah had always known she would be, and Savannah found herself truly happy for her friend, despite her own lingering sense of incompleteness.
"He's so precious, Maggie."
"Thank you," Maggie whispered, leaning forward in her chair. "Your time is coming, Savannah. I just know it."
Savannah smiled, but only because she didn't want to hurt Maggie's feelings. What man in his right mind would take even a cursory glance at a woman in her position? A woman with a younger brother and sister to care for and mounting debts to proprietors. Oh, she was a prize all right.
And yet…
There were moments when she still allowed herself to dream, however frayed and threadbare those dreams might have become in recent years.
---
Bonus Content from Shelley Gray
Note to the reader: This is an exclusive bonus scene from my novella, An Outlaw's Heart…
Iron Rail Ranch
Texas, 1879
She'd burned supper again.
Russell Champion reminded himself not to grin as he approached the house that he grew up in. It was his and Nora's home now, and each day brought him a whole new sense of accomplishment and wonder.
For most of his life this worn out ranch had claimed a painful place in his heart. Now things were different.
He'd returned six months ago, intending to only say good bye to his mother and reassure himself that Nora was doing just fine without him. Practically next thing he knew, he was proposing to her, then sitting by his mother's side as she took her last dying breath.
Now he was married to the most beautiful, sweetest girl in the state of Texas, and she was all his. He loved her. Adored her.
But for some reason, Nora Champion couldn't seem to cook a thing without burning it.
Taking care to keep his voice even and light, he opened the door to their kitchen and called out her name. "Nora? Nora, darlin', come kiss your husband hello!"
When she didn't come running, he took a better look at the kitchen. Like always, it was as neat as a pin. However, an acrid scent permeated the air. Sitting neatly on a plate were three blackened pieces of chicken fried steak. Goopy looking mashed potatoes sat in a bowl by their side. Near the stove was something that looked like it should have been gravy. In another pot was a mixture of brown vegetables. Their small kitchen table was neatly set for two.
But nowhere in the vicinity was his bride.
A small thread of worry settled in and gripped him hard. Had she hurt herself? Had she left?
"Nora?" he called out as he strode toward their bedroom.
The shades were up, bathing the room in late day light. Nora had worked hard on this room. New pale pink curtains and pillow cases and sheets and quilts in shades of pink and white and ivory graced it, all made with loving care by his wife. Some men might have balked at sleeping in such a feminine shrine.
Not him, though. He'd slept in enough bunk houses and ratty cabins for a lifetime. There was something about being surrounded by such soft, girliness that made him feel comforted. Blessed.
But not a bit of it meant one thing to him without Nora.
"Nora?" he called again. When he still heard no answer, true panic settled in.
The house wasn't big, it never had been. There was only a kitchen, sitting area, bathing room, and two bedrooms. Wherever she was, she would have heard him the first time he called her name.
But still, he peeked into the spare bedroom, which served as Nora's sewing room.
And there she was. Asleep on the floor, wrapped up a half-sewn crazy quilt made up of old calico dresses.
Immediately, he knelt beside her. Experience had him placing his fingers on her neck, frantically looking for a pulse. Just like he used to do after a gunfight when he'd been in the Walton Gang.
He blinked the memories away and concentrated on her. Instead of feeling a scratchy jaw, only smooth, cool skin met his fingers. And a slow and steady pulse.
She was sound asleep.
He was so relieved, he could practically feel tears form in his eyes. But instead of giving into weakness, he simply brushed her cheek with his thumb.
After three scant strokes, she blinked. Then turned the prettiest set of brown eyes he'd ever seen on him. "You're home."
He leaned down and pressed his lips to her brow. "I am. How come you're sleeping on the floor, sweetheart?"
She blinked again, then sat up in a start. Pressed her palms to her face. "I can't believe I fell asleep. I'm sorry."
"You can sleep all day for all I care, Nora," he said with a smile. "But this ain't like you. Are you sick?"
She bit her bottom lip. "No. But…but Russell, I ruined supper again."
He shifted so his elbows were resting on his knees. "It didn't look too bad," he lied.
"It is. I was so mad at myself for losing track of time and letting everything cook too long, I came in here to sew." She shrugged. "And then I fell asleep."
Russell saw then that tear tracks were on her cheeks. "Were you crying?"
"Maybe." Looking pained, she continued. "Oh, Russell. I wanted to make you a special supper. But no matter how hard I try, it never comes out the way I plan for it to."
"I'll help you fix it up."
"You always have to do that," she pouted.
"It ain't my fault that I'm a better cook than you, Mrs. Champion," he teased as he helped her to her feet. "You need to come to terms with that."
She smiled tentatively at first. Then, after another second it transformed into something beautiful. "I guess I'll have to."
"Good girl." As they headed toward the kitchen, something occurred to him. "Hey, why were you making me a special supper, anyhow?"
She shrugged. "Oh, no reason," she said in an airily way. "I was only going to tell you that I visited with the doctor today."
He stopped. Grabbed her hand and pulled her to him. "Because?"
"Because we're gonna have a baby." And then she smiled. Her expression, her beauty, her news, was so lovely, so perfect all thoughts of food vanished into thin air.
So he did the only thing a man in his position should do. He bent down, lifted her into his arms, and carried her back to that pink bedroom he loved so much.
She laughed at she clasped her hands around his neck. "Russell Champion, what are you doing?"
"I've decided I've got something special in mind too, Nora Champion. And I promise it's better than burnt chicken fried steak."
Her laughter echoed through the halls.
Warming his heart.
Eight months later he held another bundle in his arms. This one wrapped in a pink blanket, and living in a pink room, too.
Russell couldn't have been prouder about that.
---